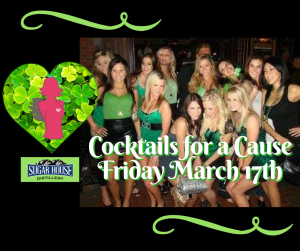 Join us St. Patrick's Day for a cocktail party to benefit The Christi Anderson Rack Pack Foundation 5:30 pm – 12:30 am. Ladies dress to impress and men dress in anything green. Sugar House Vodka is sponsoring our latest and greatest craft cocktails created by the Pierpont team.
Come and enjoy green beer, craft cocktails, Irish Whisky and the fabulously fun live music of " Red Headed Step Twins!" ($5 minimum suggested donation)
The Christi Anderson Rack Pack Foundation provides "Love Handles" care bags for anyone undergoing therapies for breast cancer. The totes are full of comfort items, a piece of jewelry, fuzzy socks, and many things to do during chemo, uplifting thoughts and so much more.
The Foundation is a 501 (c)(3) nonprofit organization.