Wedding Planning Services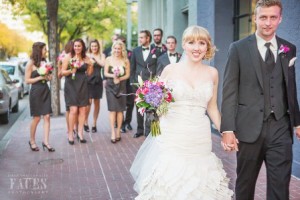 Pierpont Place is the perfect venue to host the wedding of your dreams! Whether you've been planning your fantasy wedding for decades or just getting started, our talented and creative team of planners and designers will bring your vision to life. Pierpont Place is a combination of classy and modern chic, and can host rehearsal dinners, bachelor/bachelorette parties, engagement parties, photo shoots, ceremonies for up to 200 people and receptions for up to 500 people. Depending on format of layout and whether you need just a reception site or both, the guest count will change. So make sure you give us a call or email to book a tour and free consultation. Our flexible and full-service venue allows us to give you a personalized wedding, tailored specifically to your style, interests and needs.
Couples can meet with our wedding design planners and event coordinators to discuss their visions, and our coordinators can assist you with all of your wedding needs, including catering, bar service, entertainment, floral, décor, design, photography, valet parking, and more! With in-house wedding consultants, Pierpont Place's staff knows exactly how to bring all of the complicated elements of a wedding together. We will make sure that when your special day comes, you can relax and enjoy every moment of it without stress or feeling overwhelmed.

Click here to see our Weddings photo gallery.
Click here to read testimonials from other couples that have shared their special day with Pierpont Place.
Please contact us for more information about having your wedding at Pierpont Place!