Offsite Services (Provided by Premier Event Services)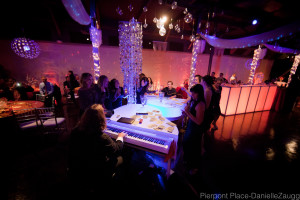 While we think the space at Pierpont Place is unbeatable for any occasion, we realize that some events must take place outside of our beloved venue. That's why we have Premier , our sister company, to take care of your offsite event needs. With Premier event services, we can take all of our services, décor, and talented staff with us to the location of your choice. Premier is celebrating 15 years of business in 2015, so we are truly experts when it comes to planning and executing offsite events. Not only is our bar service in large demand, we can provide as many or as few event services needed to enhance your event.  For instance, Premier event services can assist you with planning and designing your event, location scouting, full bar service, catering, entertainment, theme design and décor, coordination, tables, chairs, linens and set-up. Our incredibly talented staff does it all. As we say, "You need not lift a finger, only a glass!"
Premier provides:
Famous full bar services: For 15 years, Premier has become the most respected and sought out bar service in town. Our professional staff and presentation is bar none! We are consistent, reasonably priced, fun and flexible. We offer a wide variety of packages and option available to you in any home, office or venue(that allows alcohol). we are licensed and insured and truly the veteran favorite! CASH BAR SERVICES AVAILABLE AT PIERPONT PLACE. IF you want to host a cash bar at another location we need 3 months notice to process paperwork and request for you. We can discuss if that is a viable option for your event before process begins. Call Amber for more details on bar service options.
Site selection:
The Premier team can recommend a venue for your upcoming event if Pierpont Place is booked, to small or if you are seeking a garden or mountain setting, something south or north of the downtown area. Premier has partnerships with many venues and happy to work in any of them. For 15 years, the Premier team has been designing, planning and coordinating weddings and events throughout Utah and beyond.
Premier provides:
Wedding and Event Planning: The Premier team offers full service wedding planning and packaging that includes all the services you need for your wedding or event. We start with the design concept and budget and include exactly what you want and need. We can work with any size event or wedding and have done it all!
Premier provides:
Event Services: IF you need tables, chairs and linens, we can provide it! Do you need floral design, centerpieces, boquets, decor? We can provide it! Any equipment need or service, we can provide!
We are licensed and insured to provide full professional bar services to compliment any occasion.
The following are some options we offer:
– Classic Bar – Includes beer, wine and champagne * soda package optional
– Premier Bar – Includes primary liquor choices, beer, wine, champagne, and soft drinks
– Specialty Bars – Including featured drinks and blended options
– Specialty Mocktail Bars or Italian Soda Bars – For the non-alcoholic drinkers
– Service Only – Bartenders and servers available
– Customized Theme Bars
*Clients can provide the alcohol when off-site, but Pierpont Place has a liquor license and can also provide a cash bar option.
**Premier can custom design the perfect bar just for your individual needs.
***All bars include our bar kit: (fee depends on the number of guests and service time) equipment, supplies, cups, napkins, straws, linens, service tubs, and tools and insurance.
Click here to see more photos of off-site events and Bar Services done by Premier!
For more information about Premier's off-site event services or a free consultation, visit our Contact Us page!