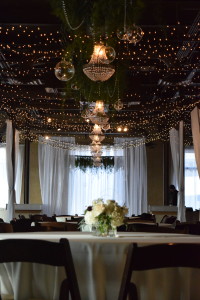 The evening at Pierpont Place sparkled with twinkle lights kissed with foliage creating a romantic sheath  of light enchanting the space with it's soft glow. Guests walked into a fairytale through soft white sheers surrounding the space. Markie and Danny greeted their guest beneath a canopy of leaves lit with candles and crystal. Deep sangria purple flowers mixed amon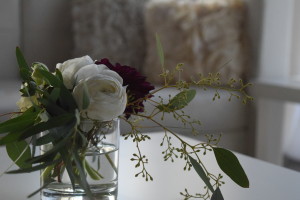 gst the warm white of roses and lilies yet another touch of romance and whimsy crafted by the Pierpont Place design team.
Markie and Danny's reception had an offering of appetizers prepared in house. A selection of imported cheeses complimented with fresh fruit. A salad of mixed greens with feta dried fruit and candied pecans served raspberry chipotle pulled pork sliders with lime coleslaw. As well as a pasta bar featuring grilled chicken, meatballs, spicy marinara and lemon alfredo. Topped off with a four tiered cake from Olivia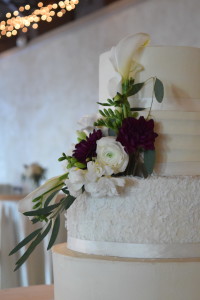 at Rockstar Cakery, as delicious as it is beautiful. Layers of flavor with clouds of coconut amongst the buttercream.
The couple celebrated their day dancing with their wedding party thanks to Tommy from Digital Acclaim. The bride and groom concluded their day walking through sparklers and into their future together.