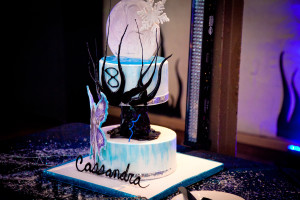 Think all eight year olds want a Disney themed party? Think again. Cassandra, a super stylish eight year old wanted a Winter Solstice themed birthday bash. Her fête was over the moon, and neither she nor the guests will ever forget it. The space was decorated with hundreds of snowflakes and crystal balls that created a wintery wonderland accented by the forest of a mystical fairy and moonlight.
The centerpieces and table settings emphasized the theme by appealing to the guest's imaginations of a magic winter garden of orchids, branches, frost and glitter. Everything glistened in blues and silvers and elegance was truly an understatement.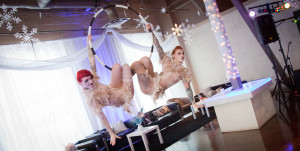 While the décor created an enchanting secret forest feel, the food set a tone of traditional fun! Fairy winged attendants served popcorn and cotton candy. The main course was Surefire's wood fired pizza, cooked to perfection and served to order. The treats did not stop there! A hot chocolate bar with all the toppings and trimmings was brought in to soothe one special little girl's sweet tooth.
Children, as well as adults, were captivated by the Voodoo aerialists performing acts in suspended hoops. Flame throwing belly dancers kept the audience's rapt attention, and a Carnival Fun center had seven games and 100 prizes for all ages. The music was provided by DJ Fonik who incorporated the limbo and fun children mixes. Of course, the occasion would not be complete without an over the top birthday cake. It was an unforgettable day for the whole family!